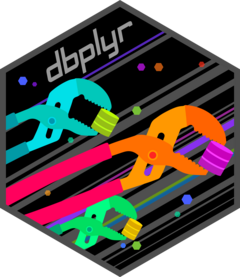 Metadata about a remote table
Source:
R/remote.R
remote_name.Rd
remote_name() gives the name remote table, or NULL if it's a query. remote_query() gives the text of the query, and remote_query_plan() the query plan (as computed by the remote database). remote_src() and remote_con() give the dplyr source and DBI connection respectively.
Usage
remote_name

(

x

)





remote_src

(

x

)





remote_con

(

x

)





remote_query

(

x

, cte 

=

 

FALSE

)





remote_query_plan

(

x

, 

...

)
Arguments
x

Remote table, currently must be a tbl_sql.

cte

Use common table expressions in the generated SQL?

...

Additional arguments passed on to methods.
Value
The value, or NULL if not remote table, or not applicable. For example, computed queries do not have a "name"
Examples
mf

 

<-

 memdb_frame

(

x 

=

 

1

:

5

, y 

=

 

5

:

1

, .name 

=

 

"blorp"

)




remote_name

(

mf

)




#>

 <IDENT> blorp


remote_src

(

mf

)




#>

 src:  sqlite 3.38.5 [:memory:]


#>

 tbls: blorp, dbplyr_001, dbplyr_002, dbplyr_003, dbplyr_004, dbplyr_005,


#>

   dbplyr_006, dbplyr_007, dbplyr_008, dbplyr_009, dbplyr_010, dbplyr_011,


#>

   dbplyr_012, dbplyr_013, dbplyr_014, dbplyr_015, dbplyr_016, dbplyr_017,


#>

   dbplyr_018, dbplyr_019, dbplyr_020, dbplyr_021, dbplyr_022, df,


#>

   dplyr::band_instruments, dplyr::band_members, mtcars, sqlite_stat1,


#>

   sqlite_stat4, squirrels


remote_con

(

mf

)




#>

 <SQLiteConnection>


#>

   Path: :memory:


#>

   Extensions: TRUE


remote_query

(

mf

)




#>

 <SQL> SELECT *


#>

 FROM `blorp`



mf2

 

<-

 

dplyr

::

filter

(

mf

, 

x

 

>

 

3

)




remote_name

(

mf2

)




#>

 NULL


remote_src

(

mf2

)




#>

 src:  sqlite 3.38.5 [:memory:]


#>

 tbls: blorp, dbplyr_001, dbplyr_002, dbplyr_003, dbplyr_004, dbplyr_005,


#>

   dbplyr_006, dbplyr_007, dbplyr_008, dbplyr_009, dbplyr_010, dbplyr_011,


#>

   dbplyr_012, dbplyr_013, dbplyr_014, dbplyr_015, dbplyr_016, dbplyr_017,


#>

   dbplyr_018, dbplyr_019, dbplyr_020, dbplyr_021, dbplyr_022, df,


#>

   dplyr::band_instruments, dplyr::band_members, mtcars, sqlite_stat1,


#>

   sqlite_stat4, squirrels


remote_con

(

mf2

)




#>

 <SQLiteConnection>


#>

   Path: :memory:


#>

   Extensions: TRUE


remote_query

(

mf2

)




#>

 <SQL> SELECT *


#>

 FROM `blorp`


#>

 WHERE (`x` > 3.0)