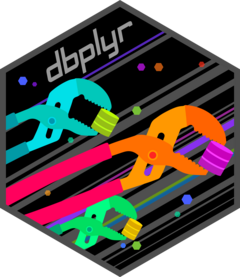 Metadata about a remote table
Source:
R/remote.R
remote_name.Rd
remote_name() gives the name remote table, or NULL if it's a query. remote_query() gives the text of the query, and remote_query_plan() the query plan (as computed by the remote database). remote_src() and remote_con() give the dplyr source and DBI connection respectively.
Arguments
x

Remote table, currently must be a tbl_sql.
Value
The value, or NULL if not remote table, or not applicable. For example, computed queries do not have a "name"
Examples
mf

 

<-

 memdb_frame

(

x 

=

 

1

:

5

, y 

=

 

5

:

1

, .name 

=

 

"blorp"

)




remote_name

(

mf

)




#>

 <IDENT> blorp


remote_src

(

mf

)




#>

 src:  sqlite 3.37.2 [:memory:]


#>

 tbls: blorp, dbplyr_001, dbplyr_002, dbplyr_003, dbplyr_004, dbplyr_005,


#>

   dbplyr_006, dbplyr_007, dbplyr_008, dbplyr_009, dbplyr_010, dbplyr_011,


#>

   dbplyr_012, dbplyr_013, dbplyr_014, dbplyr_015, dbplyr_016, dbplyr_017,


#>

   dbplyr_018, dbplyr_019, dbplyr_020, dbplyr_021, dbplyr_022, dbplyr_023,


#>

   dbplyr_024, dbplyr_025, dbplyr_026, df, dplyr::band_instruments,


#>

   dplyr::band_members, mtcars, sqlite_stat1, sqlite_stat4, squirrels


remote_con

(

mf

)




#>

 <SQLiteConnection>


#>

   Path: :memory:


#>

   Extensions: TRUE


remote_query

(

mf

)




#>

 <SQL> SELECT *


#>

 FROM `blorp`



mf2

 

<-

 

dplyr

::

filter

(

mf

, 

x

 

>

 

3

)




remote_name

(

mf2

)




#>

 NULL


remote_src

(

mf2

)




#>

 src:  sqlite 3.37.2 [:memory:]


#>

 tbls: blorp, dbplyr_001, dbplyr_002, dbplyr_003, dbplyr_004, dbplyr_005,


#>

   dbplyr_006, dbplyr_007, dbplyr_008, dbplyr_009, dbplyr_010, dbplyr_011,


#>

   dbplyr_012, dbplyr_013, dbplyr_014, dbplyr_015, dbplyr_016, dbplyr_017,


#>

   dbplyr_018, dbplyr_019, dbplyr_020, dbplyr_021, dbplyr_022, dbplyr_023,


#>

   dbplyr_024, dbplyr_025, dbplyr_026, df, dplyr::band_instruments,


#>

   dplyr::band_members, mtcars, sqlite_stat1, sqlite_stat4, squirrels


remote_con

(

mf2

)




#>

 <SQLiteConnection>


#>

   Path: :memory:


#>

   Extensions: TRUE


remote_query

(

mf2

)




#>

 <SQL> SELECT *


#>

 FROM `blorp`


#>

 WHERE (`x` > 3.0)